Well lovelies, I'm back from Chicago! If any of you didn't know I went to see Strip Strip Hooray! I was afraid Dita would never come closer to me than this and so I took the plunge. I thought we were gonna be able to stay longer/do more things, which sadly just didn't pan out. So I'm saving everyone's suggestions for my next trip. And boy are we planning a next trip. I hadn't been to Chicago since I was a little girl, so I didn't really remember how amazing it was.
Sadly, I was not allowed to take any photos inside the venue so I have only my outfit to show you lovely ladies and gents. Even then we had to take some hurriedly behind our hotel, so really sorry for the tacky background.
I about fainted when I found this dress in a local antique mall. I've always dreamed of one of these 50's vixen wiggle dresses, but because of my plentiful hips they always fit far too large in the bust or too tight in the hips. I always sigh and walk away from them. This time I decided I was gonna try it even if I was crazy dissapointed in the end, but lo and behold it fit! I had already planned on wearing a darling little tikki wrap dress I had, but this became the new plan.
Even though we originally went to see Dita perform, I think we ended up liking some of the other shows that were with her even better. Her costumes were out of this world, but some of the other performers were far more lively and fun to watch. Like Dirty Martini and Prince Poppycock. So funny and wonderful!
I'll leave you with a photo of me and my darling sister Sarah. We had a fabulous time and I'm so glad I got to go with her.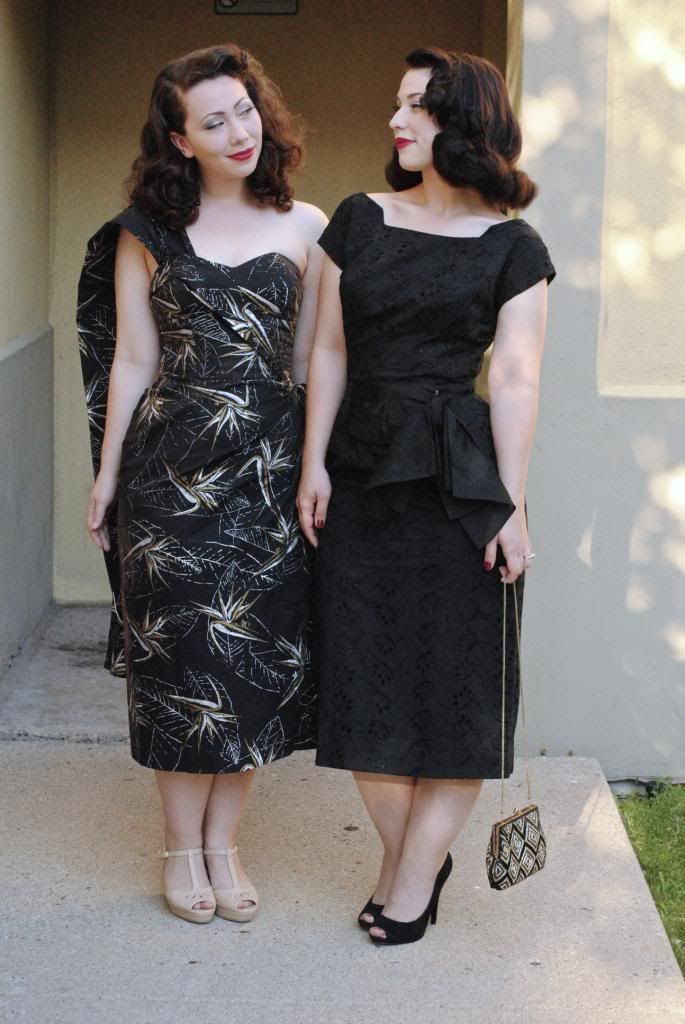 Sarah wore:

50's wrap tikki dress

(mine) gaslamp antique mall
shoes

bait footwear
I wore:

50's dress

gaslamp antique mall
shoes

nine west (the most uncomfortable pair of shoes ever)
late 40's/early 50's purse

my grandmothers
xo,
Em